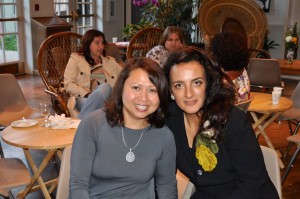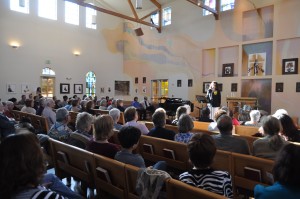 On Sunday May 3rd Thais Helena had its Opening Exhibit in Danville, California. It was a memorbable night of Jazz, Art and Poetry. Here are some photos and comments of people who attend the event:
Whatever we contributed to your fabulous opening night, was secondary to your paintings and poetry, your Art.  It is an honor to be a part of it.  Whatever happens next will be better (yes, it's possible!)  I concur with Randy's words about his experience in the midst of you.  This was your night to shine, brilliantly, and it was wonderful to see. Peace, Bill Carmel
You are the essence of elegance. You are gracious.You are open and wild at the same time. Your work touches at a deep level and your poetry–well, my dear friend, speaks to the heart. Brava! It is your humility and confidence that shine forth–using your gifts from God. Very powerful. Very. With deep love, Ruth Leshe. 
It is a joy to see your spirit emerge through your art! It's a honor to work with you. Steve Harms
What a wonderful show and gathering of friends and supporters—
not many artists have had such a welcoming "coming out"!
I thought your work was beautifully displayed, tastefully arranged
and touched many people.  Your messages were affirmed and amplified
by the environment and its musical activities.
Randy Dutra