Thais Helena Guidolin M. Ouzounian is a Brazilian self-taught mixed media artist, married and the mother of two boys who has lived in the San Francisco Bay Area for the last 18 years.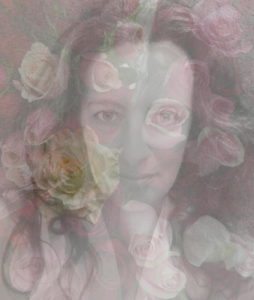 She is passionate about her family, art, nature, music, books, traveling, human rights advocacy and simplicity.
Thais started her career as a lawyer in Brazil. When she moved to California she became deeply enchanted by the spirit and Autumn colors of the West Coast.
Combining this new enchantment with her passion for life she began putting these feelings onto canvas. Her innovative organic work has resulted from a synergy of natural elements, photography, paiting and inspirational quotes/poems as she combined her enchantment of these colors with her passion for life.
"Thais' explorations in painting, including mixed media, produce insightful works that reflects the strength and dignity of thoughtful living. Using paint, canvas and the decorative properties of mixed media, she creates visual delights and incorporating timeless words of wisdom. There is an explosive energy to these works that capture the inspirational, sometimes fleeting, moments of life", says Randy Dutra, artist and Academy Award Nominee for "Star Wars" and "Jurassic Park".
"Thais' art conveys passion for life – in all its splendor and intricacies. Her mixed media is earthy, raw and sophisticated at the same time. Her art/poetry celebrates contemplative moments of awareness, the sassy strength of women, the primal connections of mother love, the joy of creation coloring the earth and the wispy moments of grace that keep swirling around us. The beauty within and the beauty without – come and enjoy your own playful, profound soul in her dance of visual beauty"- Danville, CA. Pastor and friend, Steve Harms.
Bill Carmel, a former professor of art at UC Berkeley says: "Thais Ouzounian makes art that resolves the human need for support, love and compassion. Her images and words communicate these ideas directly and positively — the compositions are simple and stunning. Sometimes she weaves natural forms, colors and images into the work. Another wonderful quality of Thais' art is that her subjects run the gamut of human life experience from tragedy, to the ordinary, to profound joy without resorting to dark nor sentimental cliches. It is visual poetry. The work comes from a place where Spirit lives"
The diverse collections reflected in the Mixed Media Gallery exhibit the varying styles you will uncover when you dive into Thais' portfolio of works.
Thais believes art should convey beauty, simplicity and touch one's heart. "If my art can stir your soul, if I foment reflection or if I can put a smile on your heart, then my creativity succeeds." Thais is grateful that the motivation for her work is the symbiosis between what she is and how her art can touch others. "The magic around being us, is also between us, on this golden bridge between you and I."
Namaste.