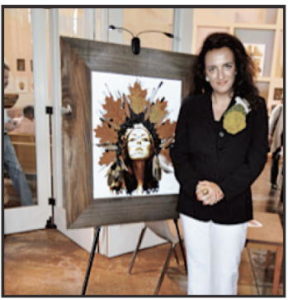 MEET ARTIST THAIS HELENA
By Linda Summers Pirkle
"I've always loved words," says Thais Helena, Brazilian born local artist. She turns heads as she walks into a room with her thick, wavy hair piled on her head, sporting a bright mustard colored scarf and dangling earrings. "Now this love of writing has transformed to another vehicle of expression in which I use not just words, but images, shapes, shades, textures, color, and quotes. I create both mixed media and abstract art."
In her lightly accented English, Thais Helena peppers her phrases with "How do you say in English?" and shares her thoughts on beauty, art, and her journey from a career as an attorney in Brazil to an artist in California. She uses her many talents to weave inspirational words and three dimensional art to honor the "boldly beautiful" — women who are not perfect. "Beauty is the opposite of perfection," she says. "It's about confidence, charisma, and character. It's about inner strength and how you make others feel about themselves. True beauty is a light in the heart; it's a reflection of the soul. This is true beauty."
Thais notes, "I grew up in São Paulo, Brazil's vibrant financial center, with numerous cultural institutions and a rich architectural tradition. Later, my family moved to the countryside where I spent several years of my youth, and then returned to São Paulo to study law and to work at my former law firm. I remained living and working there until I married my American husband, moved to Danville, and had my children.
My mom was always very artistic, and the way that she saw the world, through an artistic perspective, had a huge influence on me. I grew up with her talking about aesthetic, colors, shapes, and beauty. Throughout the years, I saw her working with batik, maiolica, jewelry, clay, and decoration/interior design. I still love to decorate spaces with my mom."
Thais reflected, "I think the hugest influence that my mom's way of life had on me came from how she used to turn her eyes to less fortunate people. When I was a child, she used to take me with her to the orphanages and other similar institutions where she used to volunteer as an art teacher. That was the experience that I was most thankful for.
I have turned my eyes to work with women who have lost their hair while struggling with cancer or alopecia. Enchanted by the inner strength and beauty of these ladies, I am creating a series of work specifically to honor these special warriors. I call the series Boldly Beautiful. While on this journey, I have been blessed with the opportunity to meet and partner with the amazing foundation Boldly Me in Fremont. Founded by Alanna Powell, children and teenagers from around the San Francisco Bay Area are guided to help build their self-esteem and boldly embrace themselves."
"I see my art as an instrument, an instrument to hopefully bring joy, and thus, I hope it can be spread to touch as many people as it's helpful," she states. "I ultimately hope to have my art used as a vehicle to serve others."
"My studio is at my home," says Thais. I work with my art during the mornings when my children are at school. From my art room I see our back yard covered with flowers and redwoods. It's so peaceful, beautiful."
Thais Helena's works have been exhibited in various venues throughout the Bay Area including the O'Hanlon Center for the Arts in Mill Valley, Harrington Gallery in Pleasanton, Bankhead Theater Gallery in Livermore, Blackhawk Gallery in Danville, Benicia Open Studios, and Peace Lutheran Church in Danville on cultural evenings with a combination of great jazz and art shows. At the 40th Annual ADAS (Alamo/Danville Artists' Society) Spring Art Show in Blackhawk in May, Beth Batchelor, founder and judge of the ADAS shows reflected on Thais's three dimensional acrylic with flowers which feature bald, bold, and beautiful women and commented, "This is about true art, art that conveys a message and serves others. It's beautiful."
Bill Carmel, local art critic and former art professor UC Berkeley noted,"Thais makes art that resolves the human need for support, love, and compassion. Her images and words communicate these ideas directly and positively; the compositions are simple and stunning. Sometimes she weaves natural forms, colors, and images into the work. Another wonderful quality of Thais's art is that her subjects run the gamut of human life experience from tragedy, to the ordinary, to profound joy without resorting to dark nor sentimental clichés. It is visual poetry. The work comes from a place where spirit lives."
In the fall of 2015 Thais Helena's artwork called "The Most Beautiful Children on Earth" was presented to the Deputy Secretary General, Jan Eliasson, in celebration of the United Nations 70th anniversary. It became a part of the United Nations Art Collection in New York City.
Thais added these last thoughts: "I make art for three fundamental reasons: As a vehicle to inspire one's soul, as a vehicle to serve my expressive needs, and as a desire to communicate messages that may serve others."
Her posters, prints and greeting cards are available for sale at San Damiano Retreat Gift Shop in Danville and the St. Francis Retreat Gift Shop in San Juan Bautista. Thais Helena's website is thaishelenastudio.com.  Read the original article here.